I've never had a full-fledged makeover, but I can imagine how good it feels. Even after a simple trim I find myself strutting down the street, flipping my hair like I'm starring in a shampoo commercial. Admittedly, I feel a similar sense of pride when I clean up my digital appearance, changing my profile photo or updating my info.
Giving yourself a LinkedIn makeover is especially satisfying, since it's how you represent yourself on the world's largest professional network. Even though it's important to keep your personal LinkedIn profile up to date to show off your most relevant qualifications to recruiters and potential employers, your Company Page deserves some regular primping as well. After all, more than 450 million people could be looking at it at any moment. Here are three easy ways to whip your Company Page into tip-top shape.
Bonus: Download a free guide to discover four time-saving tools to help you grow your LinkedIn network faster. Includes one tool that lets you schedule a week's worth of LinkedIn updates in just three minutes.
1. Refresh your images
Updating the imagery on your Company Page is like getting a haircut or a new shirt—it's an easy way to switch things up and make yourself look a little more polished.
Update your logo
Your logo appears on the profiles of your employees and when people search for your company on LinkedIn, making it an important image for creating first impressions. Make sure the logo you use is sized properly so that it's clear and not pixelated or blurry.
LinkedIn logo image requirements:
Minimum 300 x 300 pixels
Recommended size of 400 x 400 pixels
PNG/JPEG/GIF format
Maximum 4 MB
Square layout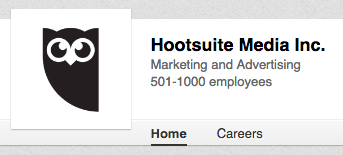 It's generally a good idea to use the same logo on LinkedIn that you use on your other social networks for consistency. Also, try to limit the amount of text involved, since your logo will sometimes appear smaller than it does on your Company Page itself (like when people search for your brand, for example).
Change your banner image
Since your banner image is the most eye-catching part of your Company Page, changing it up is one of the most effective ways to give your brand a LinkedIn makeover.
LinkedIn banner image requirements:
Minimum 646 x 220 pixels
PNG/JPEG/GIF format
Maximum 2 MB
Landscape layout (meaning your image should be wider than it is tall)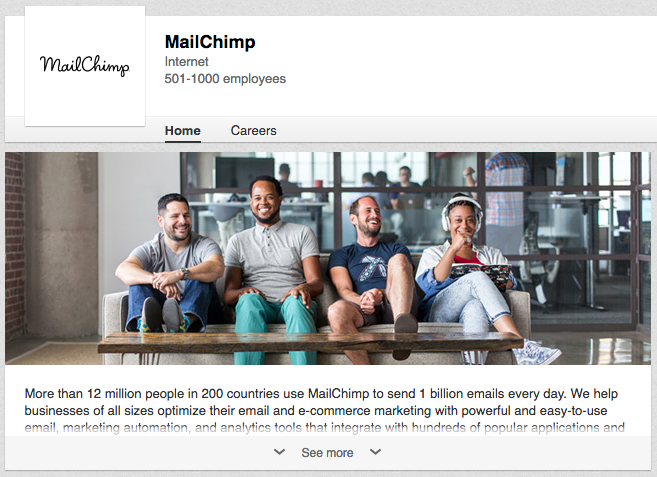 One way to refresh your banner image is to upload a photo that features your employees, as MailChimp did in the example above. Featuring the faces of real people at your company is a great way to humanize your brand, making it more appealing to those using LinkedIn to find job opportunities or create new business relationships.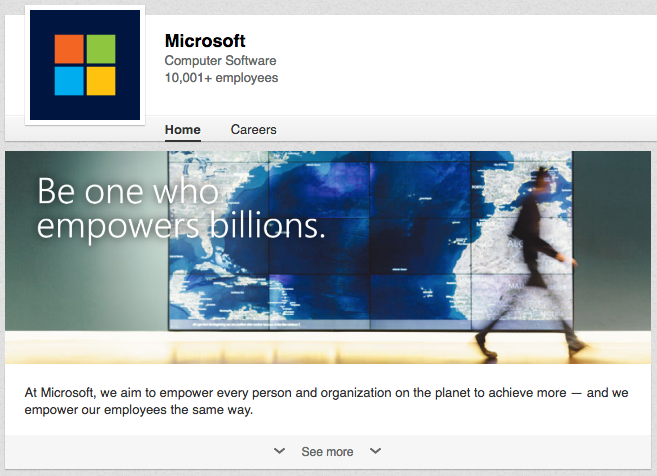 Another tactic is to use your banner image to promote a specific campaign or deliver a brand message, as Microsoft did in the example above. Either way, this is your chance to grab the attention of potential new followers, employees, or connections. Go ahead and strut your stuff.
2. Update all your info
Without looking, can you describe what it says on your LinkedIn Company Page overview? Is it engaging enough to grab someone's attention and make them want to explore the rest of your page? Does it portray everything about your brand that you want people to know?
If the answers to these questions elude you—or you added a little blurb when you first created your Company Page and haven't touched it since—it's time for an update.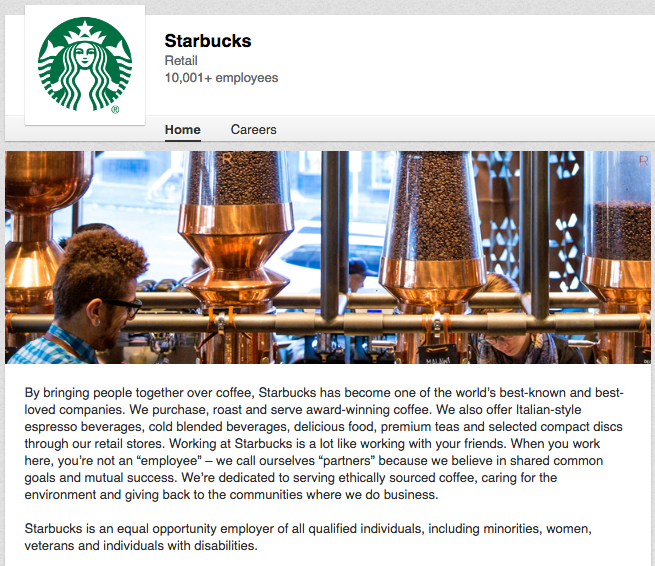 Your overview is the blurb that appears under your banner image on your Company Page. In the example above, Starbucks describes what it does, the products it offers, what it's like working for Starbucks, and the ethics that the company adheres too—in other words, the overview covers everything a potential employee or business partner would want to know. You'll note that this is all done in a personable tone of voice as well. There's no jargon, no hyperbole, and no fluff.
Learn how to get even more out of LinkedIn with free social media training from Hootsuite Academy.
Aside from your overview copy, make sure the other areas of your Company Page are filled in with the most relevant info, including the URL to your website, the year your company was founded, where your headquarters are located, your specialities, and company size.
3. Create Showcase Pages
A Showcase Page is an extension of your Company Page that allows you to highlight something specific about your business—whether it's a brand, product, service, or initiative. This makes it easy to build a dedicated community on LinkedIn that revolves around a particular message or segment of your business.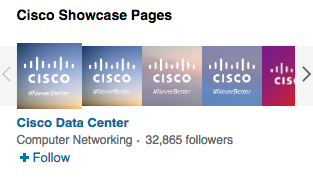 For example, Cisco uses Showcase Pages to communicate specific, separate stories about its data center, security, enterprise networks, collaboration tools, and more.
Learn how to get even more out of LinkedIn with free social media training from Hootsuite Academy.
Along with creating Showcase Pages, here are five other things your brand should be doing on LinkedIn.
Ready to flaunt your refreshed Company Page? With Hootsuite, you can schedule LinkedIn posts, target a specific audience, engage with your followers, and measure your impact—all on one platform. Try it for free today.
The post 3 Easy Ways to Give Your Business a LinkedIn Makeover appeared first on Hootsuite Social Media Management.
from Hootsuite Social Media Management https://blog.hootsuite.com/business-linkedin-makeover/