You wouldn't launch a business without knowing exactly who your potential customers are, and the same can be said about your Facebook strategy. The more you know about the people who make up your Facebook community, the easier it is to create and share content that they will find valuable. Relying on a classic spray and pray method—where you just blindly blast your social media content everywhere without any kind of targeted strategy—isn't going to cut it.
While people love to claim that Facebook users are diminishing, the number of people who log into Facebook every day has actually grown by 16 percent year over year. Even more interesting is the fact that mobile usage has grown by 21 percent year over year. This shows that users aren't leaving Facebook so much as they are leaving desktop interfaces and flocking towards mobile. This is emphasized by SmartInsights who found that 52 percent of digital media time in the USA is spent on mobile, compared to the diminishing 42 percent on desktop.
A few things you should know about Facebook:
1.65 billion monthly users (as of March 2016)
More than 1.09 billion people use Facebook daily (as of March 2016)
989 million mobile daily active users (as of March 2016)
1.51 billion mobile monthly active users (as of March 2016)
84.2% of daily active users are outside the US and Canada (as of March 2016)
71 percent of American adults with access to the internet use Facebook
Knowing Facebook demographics can help you better meet the needs of your customers so that you can tailor your content strategy on the platform accordingly.
Facebook demographics are important to your business because they:
Help you get to know your audience (allowing you to make more meaningful connections)
Allow you to target the audience members and customers who matter the most to your brand
Equip you with the information you need to see what content works for your audience, and what content doesn't
Continue reading to discover the Facebook demographics, statistics, and data that matter to your business, and ways to use this information so you don't end up looking as out of place as that DVD rental store does in 2016.
Facebook gender demographics
While these gender demographics limit the information to two genders, they still can help paint a bit of a picture of who your audience is.
76 percent of all female-identified U.S internet users use Facebook
66 percent of all male-identified U.S internet users use Facebook
Any information you have regarding the people you're aiming to target, and those who are interacting with your message, can help you adjust your message accordingly and have more personal audience relationships.
Facebook age demographics
In the same breath declaring that users are leaving Facebook, people love to exclaim that young people are leading the way. However, the numbers paint a different picture:
82 percent of 18 to 29-year-olds online use Facebook
79 percent of 30 to 49-year-olds online use Facebook
56 percent of online users ages 65 and up use Facebook
The largest demographic on Facebook, those aged 25 to 34, is also the prime target demographic for most marketers. With this Facebook statistic alone, it's clear that your business should undoubtedly have a presence on the platform.
Knowing the age of your target demographic also helps you tailor your message. You probably wouldn't speak to children the same way that you speak to your grandfather. It's important to know who you're speaking to so that you have the best chance of engaging them.
Facebook income and education demographics
Just like gender, knowing the Facebook demographics regarding your audience's income and education level helps form a clearer image of who they are.
72 percent of online users with incomes over $75,000 use Facebook
74 percent of Facebook users have some form of higher education
How to find out the demographics of your brand's Facebook audience
To facilitate a deep dive into your audience demographics, there are some tools available that can help make the process as painless as possible.
Facebook's own Audience Insights tool allows you to see comprehensive demographics information without leaving the site. Recently revamped, Audience Insights gives you Facebook data related to your target audience such as:
Demographic information (age, gender, relationship status, job roles, and other key data)
Lifestyle and interests
Purchasing patterns and information such as online buying behavior, the things they're mostly likely to buy, and geographic location data that can help you identify where to run special promotions or host events)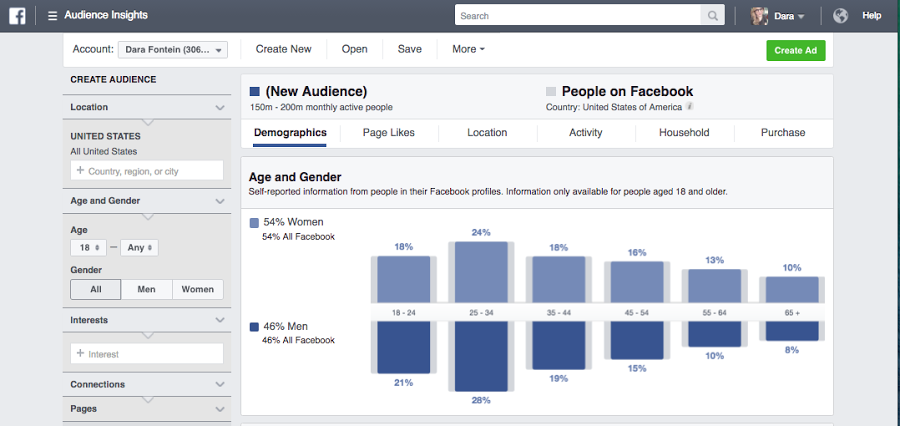 When you access Audience Insights, you can filter your audience (custom or connected to your Page) as well as compare it to Facebook's overall audience. Once you have defined an audience, you can save it and create an ad based on those target Facebook demographics—something that will save you plenty of time, energy, and resources.
Using Hootsuite, you can access valuable Facebook demographics data right within the Dashboard. With Hootsuite Analytics, you will get a snapshot of your audience's levels of engagement with your content. You will be able to see Facebook data such as where in the world (literally) your Facebook Likes are coming from, and basic demographic information such as age and gender breakdown.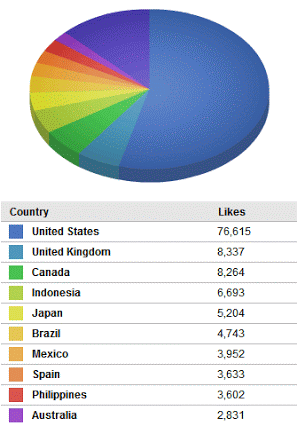 Take Facebook demographics to the next level and create audience personas
With your own Facebook data in mind, it's helpful to create customer personas so that you can target your message even more successfully. As our post How to Create Audience Personas explains, "The better you know your audience, the better you will be at engaging with them. The better you are at engaging with them, the stronger the relationships you will build with them." While knowing the age and income of your audience is great, actually understanding their habits, motivations, and pain points can help build the lasting relationships that will truly matter.
Get to know your Facebook audience with Hootsuite Analytics. Try it free today. 
The post Top Facebook Demographics That Matter to Social Media Marketers appeared first on Hootsuite Social Media Management.
from Hootsuite Social Media Management https://blog.hootsuite.com/facebook-demographics/