Because it's a relatively new platform, getting new Snapchat friends—what Snapchat calls followers on the app—is not an easy task for many brands. Young people who grew up with the platform just seem to "get it," but for many of us folks over 25, Snapchat is the furthest thing from intuitive.
There's no way around it. You need to use it to get it.
Brands who have success with the platform follow the right people and learn from example. Eventually it all clicks in your mind and you can't understand how it ever seemed so complicated.
The undeniable reach of the platform is worth the extra effort. Snapchat now reaches an astronomical 41 percent of all 18 to 34 year-olds in the United States. If that statistic doesn't blow your mind perhaps learning that Snapchat users watch 10 billion videos a day will. Are you new to the wonders of Snapchat? Take it slow and check out our Everything You Ever Wanted to Know About Snapchat (But Were Afraid to Ask) post and our handy dandy Snapchat for Business Ultimate Marketing Guide first. After you've mastered the basics of the platform, let's talk turkey on the unique challenge of recruiting Snapchat friends.
How to get more Snapchat followers
Unlike the tools you may have used to attract followers on Instagram or Facebook, Snapchat doesn't have a suggested user list or a method to easily search for people. You can't get on board the hashtag train or increase visibility with a well-timed Retweet à la Twitter.
Only celebrities and notable public figures seem to have the organic draw so many companies would love to establish on Snapchat. The app has been criticized by Wired for its lack of follower-wooing features, but clever marketers know how to get around this deficit. So how does an average bear grow a substantial audience of Snapchat friends?
Always. Be. Closing. Just kidding! Fortunately you don't have to have Glengarry Glen Ross skills to win over Snapchat friends in this market. All you need to do is follow these eight straightforward strategies and you'll be the belle of the Snapchat ball in no time.
1. Make it easy for Snapchat users to follow you with a Snapcode
What the heck is a Snapcode, you ask? A Snapcode is a nifty, scannable code that makes adding new Snapchat friends and opening Snapchat content quick and easy. Your Snapcode is located in the center of your Snapchat Profile Screen, found by tapping the ghost in the upper center of the Camera Screen.
BIG news… We're on Snapchat! Here's how we pitched it to our boss 👉https://t.co/i8NeYCArh1 pic.twitter.com/SIfDGAQtzl

— Hootsuite (@hootsuite) February 17, 2016
New followers can scan your Snapcode using the Snapchat camera. They can also screenshot your Snapcode and use the "Add by Snapcode" feature on the "Add Friends" page to easily add your business as a new friend. Once you have your Snapcode, you can begin posting it far and wide.
2. Promote your Snapchat profile on other social media platforms
Sharing your Snapcode on Facebook, Instagram, and other social media platforms will allow followers to screenshot it and add you by having the app scan their cameral roll for Snapcodes.
Announce your company's Snapchat handle and Snapcode on your existing social media sites to build a following and create excitement. Offer a glimpse on Instagram of some exciting product your business is developing or hype up a promotional event on Facebook and then encourage your followers to head to Snapchat to learn the details.
Stop by and use our new #Snapchat geofilter to remind everyone what's going down on 6/21. pic.twitter.com/jnaz676Uod

— Taco Bell (@tacobell) June 15, 2016
Inspiring curiosity is an excellent strategy to incentivize followers from other accounts to follow your business on Snapchat.
Pro tip: Your Snapchat profile has a shareable link that you can easily promote on any social network. Here's the format: http://www.snapchat.com/add/YOURUSERNAME
3. Master Snapchat features to make your content shine
There are a plethora of exciting Snapchat features at your fingertips. As we explain in our in-depth Snapchat hacks, tips, and hidden features guide, you can apply up to three filters on a single Snap, give your Snap a soundtrack, add multiple lines of text to your captions, and more.
Snapchat also gives you access to multiple filters, geo-tags, video speed adjusters, and even a goofy face-swap. Use selfie Lenses. Add 3D stickers. Enhance your videos and pictures with a lovely filter. Add text to your posts.
#TravelTuesday = Time for Geofilters! Pro tip: Stack filters 2 make ur Snap game strong! https://t.co/BeJWyvH0SU pic.twitter.com/lsJIAFsWVB

— Snapchat Support (@snapchatsupport) January 26, 2016
With billions of Snaps out there, it never hurts to set your business apart from the rest with some great looking content. Snapchat friends will be more likely to follow you when you bring something unique to the table.
4. Post frequently on Snapchat and interact like a human
Once you have a few Snapchat friends, it's important to let them know you're real. Snapchat is all about being authentic and relatable so it's okay if your Snaps are a little rough around the edges.
Snap back and forth with the fine people who have decided your brand is worthy enough to follow. React to other people's stories by sending them an instant message. The more snaps you post to your story and send directly to other users, the more points you get within the app. The more points you get, the more trophies you get, which unlocks new features as you go. This reward system not only wins you more followers, it's fun!
5. Invest in quality Snapchat content
A thoughtful strategy and high-quality content is well worth the investment—10 snaps of your logo or a bland announcement of a product won't keep your Snapchat friends coming back for more.
Entrust your Snapchat account to someone with a proven track record of success and pay a little more for a top-notch storyteller. Snapchat now offers the option to work with one of their Creative Partners (advertising agencies) to create a campaign.
SNO is thrilled to have been selected as one of @Snapchat's Creative Partners! https://t.co/KvcGQKHdcE pic.twitter.com/kZhmDxhJaL

— Studio Number One (@studionumberone) June 15, 2016
Although it might sound silly, Snapchat is hard work. Dedicated marketing teams spend hours responding to engagement, devising stories, and measuring success. The extra expenditure might be worth it to design something more effective than what you can dream up in-house.
6. Personalize the experience for your ideal Snapchat friends
By identifying your customer and personalizing their Snapchat experience, you can find and keep your ideal customers. Consumers all have different needs, potential touch points and behaviors when making a purchase decision.
Ok I just love @ROMtoronto on Snapchat pic.twitter.com/o4HAqDZhK7

— Morgan Sheppard (@morganyep) June 22, 2016
Brands can learn the most about their audience through data analysis and interpretation. What are the motivations and emotional drivers for your dream Snapchat followers? Snap for the followers you want AND the followers you need.
7. Offer deals and exclusives to attract followers
Everybody loves a good deal. Offering free stuff is a fantastic way to pull in new Snapchat friends. For example, in a promotion with rapper Wiz Khalifa, Groupon sent out a Snap announcing a phenomenal deal for a Wiz Khalifa fan: the first person to see the Snap and act on it could buy tickets to a Wiz Khalifa show including a backstage pass for just $4.20.
How much activity did this deal generate? Over 1,000 messages on the platform, more than 250 screenshots, and hundreds of views even after the deal sold. Your business may not be as exciting as Wiz Khalifa, but surely you have something to offer!
8. Tell a great story (behind the scenes)
If you want your followers to spread the word on how fun your brand is on Snapchat, share a secret. Everyone loves a peek "behind the scenes." A skilled creative can make even the most boring business seem exciting.
Are you filming a commercial or internal corporate video? Share some bloopers from the shoot, or some quick sound bites with camera crew. This kind of inside access makes users feel like your company is run by humans, not machines.
On ChatelaineMag snapchat… The morning scrum + our top story. https://t.co/4RAvKNvXGA pic.twitter.com/0rom8PB9Np

— Chatelaine (@Chatelaine) February 22, 2016
A special quick glimpse behind the curtain can forge a level of trust that are less attainable on other social media platforms. For example, Boldmethod, a company that produces sharable digital aviation content and offers training courses that help pilots reach certification, created a fun weekly behind-the-scenes Snapchat series with a flight crew. People interested in the mysteries of flight can get sneak peeks not found anywhere else.
It's never too late to get started on Snapchat. Once you recruit your first few followers, you'll start to get an idea of what's working. Much like in real life, if you want to build a following on Snapchat you need to hunker down and play the long game.
But if after several months your efforts continue to be futile, you can always consider investing in Snapchat advertising. Snapchat offers several different paid marketing options to meet the specific goals of your business. You can create a clever Snap Ad, build a fun Custom Geofilter, or give your potential customers an opportunity to interact with a Sponsored Lens. Big name brands across the land have had excellent success with this strategy.
Happy #CanadaDay, C's fans. 🇨🇦 pic.twitter.com/lgFyfvpKuk

— Vancouver Canadians (@vancanadians) July 2, 2016
As with any major business decision, the first follower you need is your boss. Check out how we pitched Snapchat to our boss to get this Snapchat show on the road.
Hootsuite is on Snapchat! Want to follow us? Click this link on mobile to go directly to Hootsuite's profile or scan the Snapcode below to add Hootsuite as a Friend on Snapchat.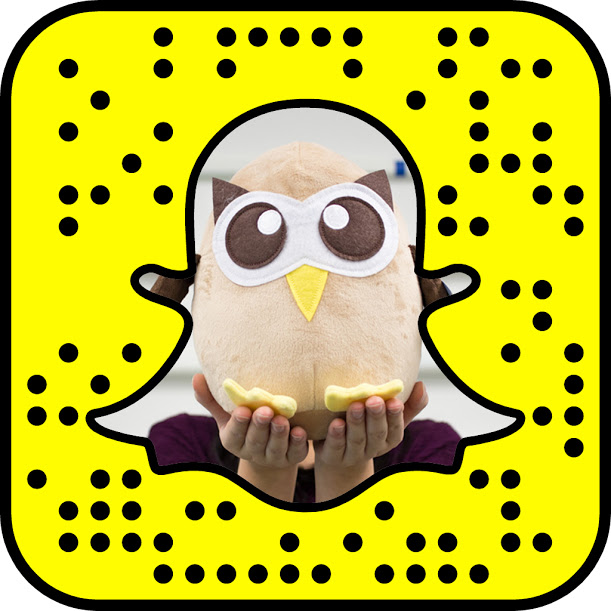 The post How to Get More Snapchat Friends appeared first on Hootsuite Social Media Management.
from Hootsuite Social Media Management https://blog.hootsuite.com/how-to-get-more-snapchat-friends/