Google Plus is a somewhat unappreciated friend. We know it's important, but we don't give it much attention or love—it's often neglected in favor of other social networks.
Like any good companion, you need to give Google Plus the time it deserves to experience the benefits. It has over 300 million active users and has recently been folded into Google My Business, which is basically Google's way of getting you more customers.
In this last few years, Google Plus has undergone some major updates. This guide will give you a quick primer on everything you need to know about Google Plus, with simple steps on how to get yourself set up and ready to go.
Why Google Plus for business?
Like all social networks, Google Plus, also known as Google +, presents an opportunity to connect with a community of customers and fans. Unlike other networks, Google Plus has significant impact on SEO and search traffic volume. Here's why you should pay attention:
Local search results
Google Plus Pages are now managed through Google My Business, a platform that makes it easy for customers to find and connect with your company. Google My Business uses Search, Maps, and Google Plus to make your brand more visible in local search results. For example, when I search "coffee shops Seattle," Google Plus listings are at the top of my search with all the relevant information: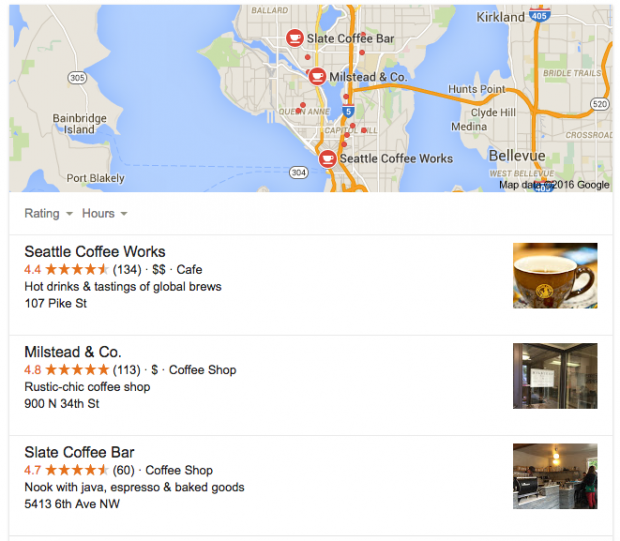 If you're hoping to make your company more discoverable (and easy to locate geographically) Google has handed you the tools you need on a silver platter. As a study from Optify tells us, it pays to be at the top. Websites that appear on the first page of Google get 54.8 percent of all clicks from users.
Long-term SEO value
Google Plus remains a key part of organic search rankings and brand visibility. As SEMRush points out, "…the simple fact is that studies of SERP ranking factors continue to highlight the influence of Google My Business signals (and therefore Google Plus) have on your organic rankings."
Also, as mobile search continues to grow, your Google Plus business listing will be an important factor for local SEO. The lesson? It pays to set up a Google Plus account through Google My Business and optimize it for your target audience.
Influence over potential buyers
Google Plus accounts are no longer required for customers to leave reviews. That means anyone that does business with you can share their experience. You can use Google Plus business reviews as a way to get more credibility, increase your organic search ranking, and influence potential buyers to check you out over the competition.
Resources at your disposal
With Google Plus comes a ton of resources from your friends at Google. You have access to Communities, YouTube, Gmail, Google Maps, Hangouts, AdWords—all intended to help you maximize your marketing strategy.
Community engagement
By strategically organizing your connections on Google Plus, you can segment key audiences and share relevant content. It's a great opportunity to get +1s, reshares, and replies. A study conducted by Hubspot showed that sites using the +1 button get 3.5 times more visits on Google Plus. This is a great opportunity for you to join the discussion or get engagement on your own content.
How to set up your Google Plus account for business
If you haven't set up your Google Plus account (or can't remember if you created one), hold tight. We'll show you how to build one from scratch or migrate your existing business Page over to Google My Business.
1. Create a Google My Business account
First, you need a Google My Business account. Once it's set up, you automatically have access to a Google Plus for business page. If you own multiple businesses in different locations, you need to set up a Google my Business account for each one of them as your business shows up in search based on location. Remember, you can always log in through Gmail to view your existing Google Plus Pages.
2. Select your business type
Before creating your Business Page, you'll be prompted to select your business type. You have three options to choose from: Storefront, Service Area, or Brand. Storefront and Service Area options are for local businesses, while Brand is for products or other business types that are not attached to a particular location. If you select one of the first two options, then you'll be prompted to give your business name and geographic location (unless you've already done so in step one). Your options will appear as follows:
Not sure what business type to select? Consider the following: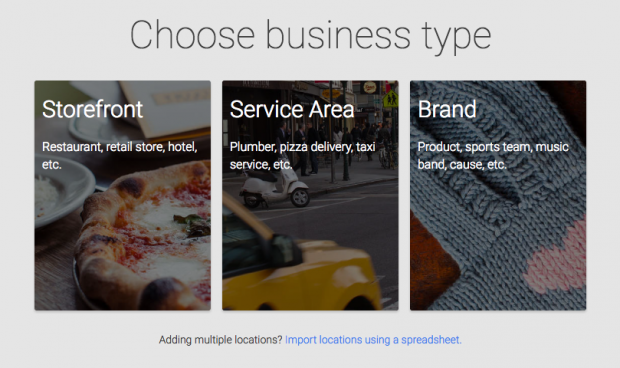 Storefront: If you want people to physically come into your business and buy products, this option is for you. In search results, your Google Plus Page will show location, hours, or other contact info.
Service Area: If you run a service location and you'd like people to be able to identify your proximity to them, choose this option. In search results, your Google Plus Page will show location, hours, or other contact info.
Brand: If you want to engage and chat with customers or your business doesn't operate out of a specific location, this option is for you. Your Google Plus Page won't show location, hours, or other contact info.
3. Add your information
Next, you'll get form fill requests where you add your business information. Follow these tips to ensure your business profile stands out and receives more engagement:
Give a visual taste of your brand. Businesses that add photos get 35 percent more clicks than those that don't, and 42 percent more requests for driving directions.
Double check that the information is correct. All of the information you provide needs to be 100 percent accurate. If you misspell your address or add the wrong hours, that can seriously damage the customer experience.
Use relevant keywords in your description. Use simple, human language that includes relevant keywords that describe your business.
Create a custom URL. A custom URL gives you a short, easily recognizable web address for your brand. Google offers tips on how to set one up.
4. Connect existing pages to Google My Business
If you have an existing page on Google Plus but it isn't connected through Google My Business, don't worry. There is a way to see your existing profiles and connect them to your account.
Sign in to Google My Business, select Locations from the page, and click Manage this location.
Click the three dash menu in the top left-hand corner of your screen.
Click Settings.
Click Connect a different page.
From the dropdown menu, choose the Google Plus page that you'd like to connect to your Google My Business listing.
If you have trouble finding your page, Google's support forum has an advanced list of steps.
5. Find and delete old pages
In order to keep a consistent brand voice, you should make sure to check for any duplicate Google Plus accounts and delete them. Here's how:
To find duplicate listings:
Go to www.plus.google.com
Type in your business name in the text box.
Click on "People and Pages."
This will show you all listings and indicate if you have any duplicate listings. For detailed instructions on how to remove old pages, you can follow these instructions.
Alternatively, if you want to remove a location within Google My Business, you can access your list view, select the locations you want to remove by clicking on the three dot menu, then select "Remove."
Google Plus features you should know about
Like any social network, if you sign up and never use it, Google Plus won't be of much help to your business. In order to maximize the opportunities that it offers, you should aim to stay active and take advantage of the following:
Circles
You can organize your People into different Circles, such as customers or influencers, which let you target your messaging to the right people. A fashion retailer, for example, might create a circle of fashion bloggers and then share updates on their seasonal lines with them.
Communities
Google Plus Communities allow you to organize people around a topic or cause. It's the perfect opportunity for engagement. As Guy Kawasaki says, "Communities have transformed Google Plus into a more deeply connected environment, people's favorite communities have become a starting point for their Google Plus activity each day. Whether you're representing a brand or are an individual with a passion, communities are a way to connect with like-minded people."
Google Hangouts on Air
Hangouts on Air is a free tool that lets you host and broadcast live videos through YouTube or Google Plus. YouTube live-streams the Hangout and hosts it on YouTube automatically. You can use Hangouts on Air for things like webinars, performances, or debates.
Collections
With Google Plus Collections, a Pinterest-like feature, you can group your posts by different topics. You can create new Collections or follow Collections that you're interested in. When you're posting content from a certain Collection, people can easily click into the Collection and view similar content.
Google Plus is a better friend than you realize
If you put in a bit of effort, Google Plus can have a huge payoff and should definitely be part of your marketing strategy.
Schedule posts and manage your business' Google Plus presence with Hootsuite. Try it free today. 
This is an updated version of a post originally published in July 2013. With files from Evan LePage.
The post Google Plus for Business: How to Put the Platform to Work For Your Brand appeared first on Hootsuite Social Media Management.
from Hootsuite Social Media Management https://blog.hootsuite.com/create-a-google-plus-page/