Have you ever seen those inspirational posters that declare "All I really need to know I learned in Kindergarten?" Taken from the book of the same name, these posters list teachings such as "play fair," "say you're sorry when you hurt somebody," "be aware of wonder," and "flush"—all unarguably sage pieces of advice.
While I wouldn't advocate you ignore any of these tidbits of wisdom (especially the last one—you know who you are), I need to address the elephant in the room. When was the last time you heard of a group of 5-year-olds discussing the merits and wonders of Twitter marketing? As a content marketer or social media manager, your Kindergarten curriculum most likely didn't include advice on how to engage with a Twitter community, share content, or Tweet like the pro that you are.
To make up for what you might have missed while you were busy learning the colors of the rainbow, we put together the following guide to Twitter marketing.
Why Twitter?
When devising a social media strategy, you have your choice of social networks to choose from. As our post "The Top Social Media Sites That Matter for Marketers" explains, "While it may seem like there's a hot new social media network being launched every day, the truth is that there are currently a core group of platforms that are key to consider for your social media strategy." With over 310 million monthly users, Twitter is undoubtedly one of these platforms.
Twitter is definitely one of my favorite social networks, and the place where I go for a good chunk of my news consumption, to interact with people and brands (i.e. @thejuicetruck "What is your lunch special today?"), and, finally, in search of comedy. As everyone's Twitter experience is created by themselves when choosing who to follow, Twitter can have the perfect mix of professional, educational, and entertainment value.
Along with this reason for adding your organization's content to Twitter's mix, our post "125+ Essential Social Media Statistics Every Marketer Should Know in 2016" shares the following statistics that show why Twitter is a fundamental part of your social strategy:
Now that you know the stats behind the social network, it's time to think strategy.
Twitter marketing strategy
Set goals
As with any personal and professional endeavor, it's a great idea to set goals. What are you hoping to achieve with every 140 characters? Who are you trying to reach? What does Twitter success look like to you and your brand? These are all questions you should think about before you dive into the Twittersphere.
You might have your own surefire way of creating and reaching your goals, but if not, the S.M.A.R.T framework is one that we highly recommend. This acronym suggests making goals that are specific, measurable, attainable, relevant, and timely. Examples of each of these as they could apply to Twitter are as follows:
Specific: "I will create a campaign of hashtag contests on Twitter to increase brand awareness."
Measurable:  "I aim to increase my reach by 100 followers a week and answer all queries over Twitter within 24 hours."
Attainable: "I want to grow my Twitter followers by 35 a week for the next quarter."
Relevant: "I will use Twitter to position my brand in a relatable way that grows my online community.
Timely: "I will average 10 interactions per day by Q3."
With these goals in mind, you're able to focus your Twitter marketing efforts much more clearly and take the next steps to achieve them.
Listen and engage
As a social media or content marketer, you know the importance of social listening. You need to know what your Twitter community is talking about, whether it's directly mentioning your brand or not. What are the topics they're interested in? What kinds of content are they responding to? Who are they engaging with? These are all important factors to consider when participating in social media listening.
Our social media glossary defines social listening as "The process of finding and assessing what is being said about a company, topic, brand, or person on social media channels" and Twitter is a top platform for this. To use social listening in your Twitter marketing plan, be sure you're monitoring:
Your own brand's name (including misspellings!)
Your competitors (again, including misspellings)
Industry buzzwords
Brand slogans
Your CEO or public representative's names (and misspellings)
Campaign names or keywords
To maximize your social listening efforts on Twitter, there are some helpful tools that our "Guide to Social Media Listening For Your Business" lists:
@ChenueHer @RPeavyhouse How many burrito bowls are we talking about here? (Also, happy birthday, Ric!) -Shane

— Chipotle (@ChipotleTweets) June 1, 2016
Measure results
Measuring your Twitter marketing results allows you to evaluate your success, see what kind of content your community engages with, and shows you what areas you could probably stop spending resources on.
Twitter has it's own native analytics tool, appropriately named Twitter Analytics. As explained on the home page, "Twitter's analytics help you understand how the content you share on Twitter grows your business." With Twitter Analytics, you can see an overview of how your Tweets are performing, who is engaging and when, influencers in your network, and metrics for individual Tweets. You can also track your followers' activity over time, their interests, demographics, and much more. If you're running a Twitter Ads campaign, your analytics are also found through Twitter Analytics.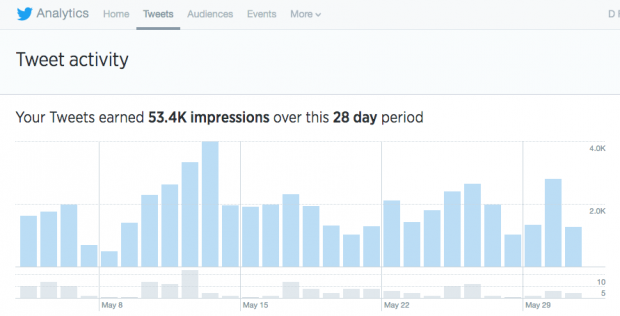 Hootsuite's analytics tools are also a great option for your Twitter measurement efforts. With Hootsuite, you can:
Create social reports—Quickly and easily build intuitive reports  and keep your team up-to-date with automatic report sharing.
Tag and track messages—Tag messages tied to specific campaigns or events to easily analyze their content, volume, and sentiment.
Measure internal metrics—Track performance at the individual and team level—including messages sent, and resolution times.
Measuring your analytics is a major part of any Twitter marketing campaign, and the following tips can help you see success in these results.
Twitter marketing tips
Best times to post
Working hard on a piece of Twitter content, only to have it receive zero engagement is not a fun feeling. While my number one piece of advice would be to make sure you're focusing on quality over quantity when planning your Tweets, knowing when to post doesn't hurt.
Our post "The Best Time to Post on Facebook, Twitter, and Instagram in 2016" provides an in-depth look at when these witching hours occur. With the lifespan of a Tweet—24 minutes—being much shorter than that of a Facebook or Instagram post, it's even more important that you find the timing sweet spot for your brand. If you don't know where to start with finding this, the following are times that other sources have found the most success with:
The Huffington Post: "For maximum retweets, post at 5 p.m., 12 p.m., and 6 p.m. Additionally, 12 p.m. and 6 p.m. also deliver higher click-through rates. The best days to Tweet for business-to-business organizations is Monday through Friday, for business-to-consumer it's the weekends and Wednesdays."
Hubspot: Between 12 p.m. and 3 p.m. from Monday to Friday, and between 5 p.m. and 6 p.m. on Wednesdays.
Kissmetrics: Weekdays at 5 p.m., where the highest percentage of Retweets occur.
Now that you have a general idea of what times might work best for your Twitter marketing strategy, you can make your life a lot easier through scheduling Tweets at these times.
Schedule Tweets
Scheduling your Twitter content allows you to gain more control over your Twitter marketing efforts. As our post "How to Schedule Tweets and Save Time"  explains, "There are many situations where being able to schedule Twitter messages comes in handy: you could have too many Tweets to handle at once, you may be out of town on vacation, or just out of office for a quick bite. It's also important not to overwhelm your audience with too much content."
With Hootsuite, you can do this one of three ways:
Manually schedule Twitter messages.
Schedule Twitter messages in bulk.
Schedule your Tweets at optimal times.
For more information on exactly how to do this, see our post on scheduling Tweets through Hootsuite.
Use hashtags
For Twitter marketing success, it's a good idea to ensure that your content is being seen by as many audience members as possible. Hashtags make this possible. Hashtags work as a classification system, enabling your Tweets to be grouped with other relevant Twitter content. This means that not only will those looking for that specific hashtag find your content easily, but you'll be able to find influencers and others in your industry without much effort.
Our post "The Do's and Don'ts of How to Use Hashtags" suggests the following best practices for your Twitter marketing hashtag use.
Do's:
Do be specific when using hashtags
Do cater hashtags to the social network you're using
Do come up with relevant, unbranded hashtags
Don'ts:
Don't go too long or too clever
Don't have more hashtags than words.
Don't hashtag everything
A hashtag can make or break a Tweet, but following these recommendations can help you find success with your Twitter marketing.
Have you discovered all of the #TacoEmojiEngine combinations that exist? Tweet us 🌮 + any other emoji to find out. pic.twitter.com/FxFqhKy7Q0

— Taco Bell (@tacobell) May 3, 2016
Include multimedia
If you never include multimedia in your Tweets, you're missing out on huge opportunities for Twitter marketing success. Multimedia will take your Tweets to the next level by making them more engaging.
Some of the kinds of multimedia you can include on Twitter are:
GIFS—with users sharing over 100 million GIFS on Twitter last year, they're a great option for adding some relevant fun to your Tweets. With Twitter's integrated GIF search introduced this past February, it's easier than ever to add a touch of animated joy to your Twitter content.
Video—video is king in 2016, and your Twitter content is no different. Tweet out videos either your organization has created, or retweet relevant video content your audience would find valuable.
Photos—this seems like common sense, but with so many other image-sharing sites Twitter sometimes gets put on the back burner as far as image sharing goes. Include relevant images to catch the eye of your community and encourage engagement.
Polls—Twitter Polls offer you a direct way of interacting with your followers and finding out what they're thinking. Use Twitter Polls for customer service feedback, quick product or service opinions, and direct social listening opportunities.
The 6 richest female musicians are worth many, many millions. #SelfMadeWomenhttps://t.co/QqvJSKoL0s

— Forbes (@Forbes) June 1, 2016
Host a Twitter chat
You can boost your visibility and make meaningful connections through your Twitter marketing efforts with engaging approaches such as a Twitter chat. If you don't know what a Twitter chat is, our post "Everything You Need to Know to Set Up Your First Twitter Chat" explains: "Using a shared hashtag, users meet at a predetermined time to discuss issues of community relevance. These chats generate tons of conversation, and build deep connections between the people partaking and brands who host."
Here at Hootsuite, we engage with our community through #Hootchats, our weekly Twitter chats. We collaborate with influencers in the industry, and encourage questions and discussion with our Twitter community. As explained, "A successful Twitter chat community builds advocacy, loyalty, and community with participants. You'll grow the social following of your accounts, generate valuable discussions and feedback, and show thought leadership with an outspoken audience."
This week's #HootChat features @keith_krance. Join in on Thursday and chat about social advertising! pic.twitter.com/fawnzi3bTJ

— Hootsuite Small Biz (@HootSmallBiz) June 1, 2016
For a step-by-step guide to hosting a Twitter chat, see our post "Everything You Need to Know to Set Up Your First Twitter Chat."
As you can see, Twitter marketing involves a comprehensive array of features, tools, and approaches. Twitter is much more than just sending 140 character messages, and offers you and your organization the opportunity to build meaningful relationships.
Now that you've mastered the Twitter marketing basics, Hootsuite can help you put them into action.
The post Twitter Marketing: The Essential Guide appeared first on Hootsuite Social Media Management.
from Hootsuite Social Media Management https://blog.hootsuite.com/twitter-marketing/