If you've ever driven through fog or a blizzard, you know that while it's physically possible, it's more difficult, dangerous, and uncertain than when you can see clearly what's in front of you. Using Facebook for your business without paying attention to Facebook analytics is much the same. Having access to more information allows you to much more easily navigate Facebook, allowing you to see what areas you're nailing—and what ones miss the mark.
Facebook's free analytics tool, Insights, allows you to easily track the performance of your business or brand's Page. With so many different measurable elements—such as Likes, engagement, reach, and demographics—Facebook Insights gives you a clear picture of where your social strategy stands. Providing clarity and perspective, Facebook Insights is like a good set of windshield wipers to help you navigate your social media plan.
How to access Facebook Insights
If you have a business page with over 30 fans, you will be able to easily access Facebook Insights by going into your Page. Once there, click on 'Insights' at the top. As Facebook's instructions explain: "From here, you can view metrics about your Page by clicking the sections on the left (ex: Likes, Reach). To export your insights, click Export in the top-right corner." From the Insights section of your Page, you have access to a great deal of information that will help you evaluate your past, present, and future Facebook strategy.

Why use Facebook Insights?
While many aspects of social media campaigns are difficult to measure, Facebook's analytics tools provide quality information at your fingertips. With 1.5 billion monthly users, it makes sense for your business to take advantage of this huge potential audience. Facebook Insights will provide you with everything you'd want to know about your Facebook Page, your audience, and your customers.
As Facebook explains: "You can use this information to create more of the types of posts that your audience is interested in seeing. You can also learn about when your audience is on Facebook and publish your posts when you're likely to reach more people." To explore the key areas Facebook Insights measures, we put together the following guide to help you understand how and why each metric is important to your overall social media strategy.
How to use Facebook analytics
Measuring engagement
When you first access the Insights panel from your Page, you will be given an overview of your Page's performance. You can see Page Likes, post reach, and engagement. In the context of Facebook's analytics, engagement refers to the percentage of people that reacted to, shared, clicked, or commented on a specific post. You will also be given an overview of your five most recent posts, with information on what type of post it was, when it was published, targeting information, reach, and engagement there as well. To find the engagement rates of your Page, Facebook provides the following instructions:
Click Insights at the top of your Page
Click Posts
Scroll down to All Posts Published
Click the arrow to the right of Post Clicks / Reactions, Comments & Shares
Select Engagement Rate
Additionally, if you notice that a certain post is doing well, you also have the option to increase engagement even more by clicking on 'Boost' to pay for a promoted post.
Likes
One of the most popular things to measure on Facebook is the amount of Likes (and other Reactions) a certain post or Page gets. Being able to see how many people Like your Page, as well as which posts garner the most (or least) Likes, gives you a great overview of how your Facebook efforts are paying off.
To access the 'Likes' tab, select it from the top of your Page screen next to 'Overview' and 'Reach.' The first graph you will see, is the date range tool, which allows you to see your Page's performance over time or according to a specific range of dates. The graph below will show you the total page Likes. You can also zoom in and focus on certain dates. In this view, you can see the actual sources of your Likes, including:
Ads
On your Page
Page suggestions
Uncategorized mobile
Your posts
Page Likes
Search
Posts to Page
API
Uncategorized desktop
If you're noticing that the greatest number of Likes are coming from ads, it's probably a good sign that you should continue concentrating time and resources there.
Possibly even more important than the sources of your Likes, however, are the insights into your Unlike Sources. Click on the 'Unlike Sources' link, and you can see the number of 'Unlikes' you received from your page and posts, or from users who unliked your Page after hiding a post. This is key information, as you are able to track what type of content is driving people away, and therefore avoid posting similar content in the future.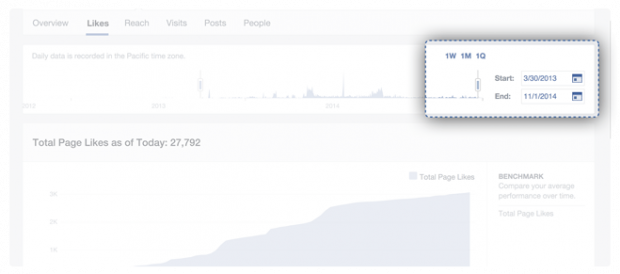 Net Likes
When you scroll down the Likes page, you will see a graph titled 'Net Likes.' With the color coding, you can see the number of 'Unlikes' on any particular day, how many likes come from paid sources such as ads, the organic likes, as well as the net likes (organic likes + paid likes – unlikes). This data offers you a visual representation of your Facebook content's performance, allowing you to see the trend over time. Notice where the graph dips and peaks, and what content corresponds with these patterns.
If you scroll down the page further, you are also able to see exactly where the Likes occurred. This graph shows you whether your Likes were Ads, when a user visited your page, Page suggestions, Mobile, and Uncategorized. While measuring and evaluating Likes is an important basic metric to pay attention to, you definitely need to look at other areas of Facebook Insights to gain a deeper understanding of your content's performance.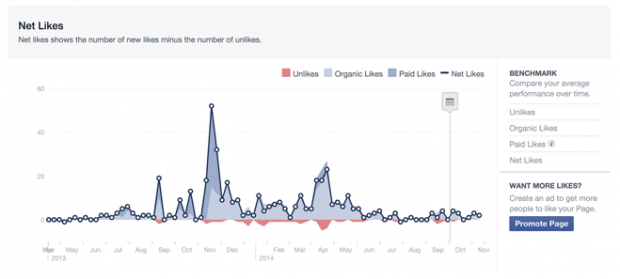 Reach
Reach is one of the more ubiquitous terms of measurement that many social media marketers struggle with. Simply put, by Facebook: "Post reach is the number of people who have seen your post. Your post counts as reaching someone when it's shown in News Feed. Figures are for the first 365 days after a post was created and include people viewing your post on desktop and mobile." This factors in Facebook's News Feed algorithms, including Likes, comments, and shares (i.e. the more of these interactions you have, the further your reach).
Through Facebook Insights, you can see the organic reach compared to the paid reach, showing you which types of posts are doing best and bringing in views. You can also see what types of content are receiving which responses. Are photos seeing a greater reach, or are your videos doing the best? As with the Likes measurement, you can also see where your Reach hit roadblocks. Where did your audience hide your posts, and what are they reporting as spam? You ideally want to see a pattern where there is less of your content being reacted to in this way, as your Reach grows. This information gives you a closer look at the potential of your content, and helps you examine the factors holding your brand's Reach back.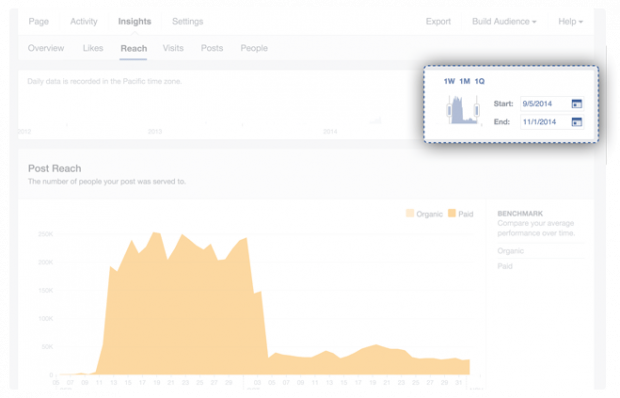 Visits
Now that you've taken a look at your Likes and Reach, you need to examine the number of times each of your 'Page' or 'Page tabs' were viewed. As Facebook explains: "The Visits section of Page Insights can help you understand what people like about your Page, if they've talked about your business on Facebook, and how they arrive at your Page."
Anytime someone views your timeline, your photos, or other content, it will be tracked here. You can see where people are spending their time on your Page, and see what areas they are ignoring. You can also select a specific date range to give you a closer look at when these interactions are happening, and examine the content that was posted then.
In the External Referrers graph, you will see exactly where these visits are coming from, such as search engines, other websites, and social channels. This information is useful if one of your business goals is driving traffic from other sources, as you will be able to see the locations where people are coming to your Page from, and focus your resources there.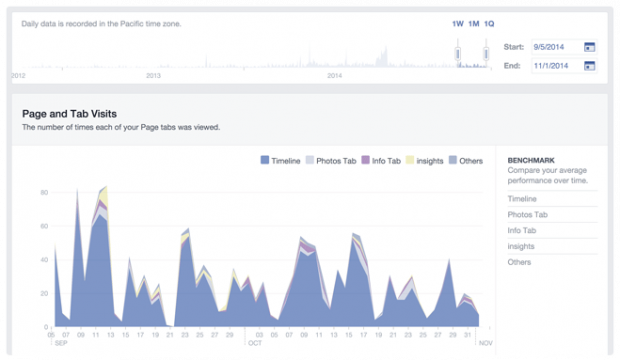 Posts
Next to the 'Visits' tab in the Insights tool, the 'Posts' tab is the one to explore next. This area will let you break down individual posts and pieces of content to see how well they are performing. You will see three headings on this page, labeled 'When Your Fans Are Online,' 'Post Types,' and 'Top Posts from Pages You Watch.'
When Your Fans Are Online: This tab helps you recognize, based on data from a one week period, when the best times for posting specific pieces of content are. This information is calculated according to the times most fans are most frequently on Facebook, information that is of obvious value to you.
Post Types: This tab helps you evaluate the success of posts based on what kind of content they are. This shows you the top three performing types of content (such as photos, videos, or links) you shared, and the average reach and engagement associated with each.
Top Posts from Pages You Watch: This tab lets you see how Pages you are monitoring (such as competitors) are doing. What types of posts get the most engagement and reach on your competition's pages? It's also a good way to gather information about your competition's habits, such as the frequency of their posting and the type of content they're sharing.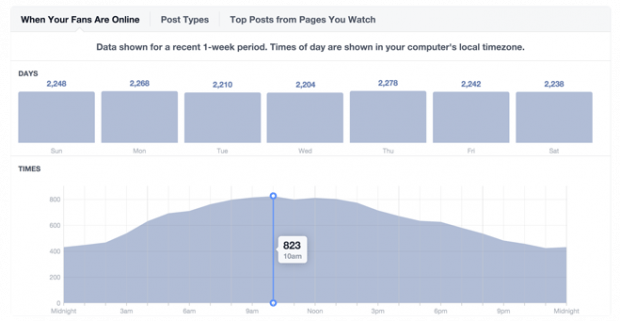 People
The 'People' tab is the one that gives you information about your business' most valuable component—your customers and audience. You are able to see detailed demographic information that's compared with the general Facebook population, helping you understand your audience at a much deeper level. What content do they like the best? What kind of content do they ignore or hide? When are they online most often? Paying close attention to this area of Insights is a great idea if one of your main goals is audience engagement, as the data gathered here will help guide your strategy from an audience-focused perspective.
You will notice that there are a few tabs in this section, but the 'Your Fans' one is a great place to start. Here, you will be able to see:
The percentage of people who Like your Page, categorized by age, gender, and other information shared on personal Facebook profiles
The geographic location of those who Like your Page
The first language of those who Like your Page
The other tabs, 'People Reached' and 'People Engaged,' use these same demographics to show who is seeing and interacting with your content. This information is important. Facebook explains: "When you understand who your audience is, you can create content just for them. For example, if you have a business that sells to both men and women, but see that women engage with your posts more often, you can focus on the audience that's actively engaging with you on Facebook."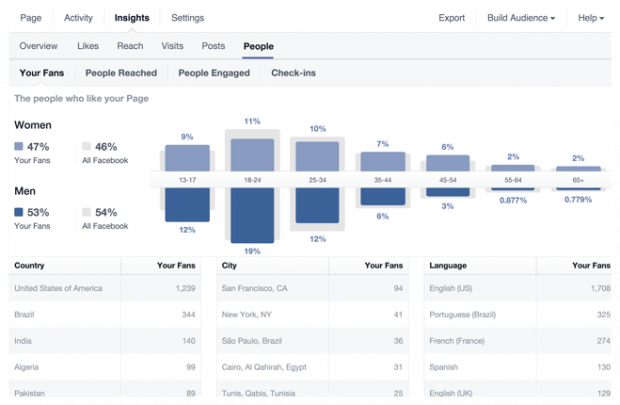 Whether your business' social media goals include aiming to increase engagement and fans, drive sales, or raise awareness of your brand, using Facebook Insights can help you succeed.
Simplified analytics
Facebook Insights provides a wonderfully detailed and in-depth look at the state of your content on the platform, but sometimes you just need a quick and simple overview of your results. For these cases, Hootsuite's set of analytics tools come in handy. Hootsuite analytics gives you a distilled version right within your dashboard, making the process of analytics and measurement as streamlined as possible.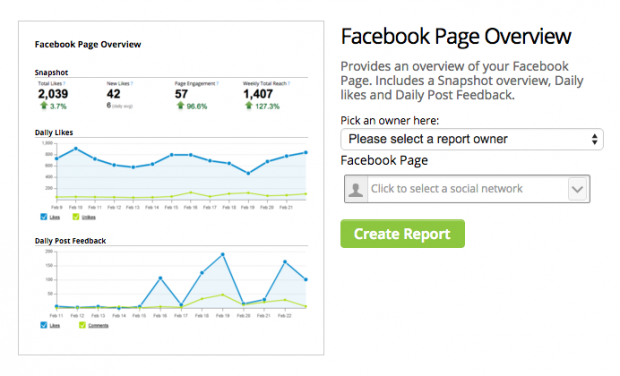 From within your Hootsuite dashboard, click on the 'Analytics' tab from the left-hand menu. From there, you can select 'Facebook Page Overview,' which gives you a snapshot of your Likes, posts, reach, and engagement, 'Facebook Insights,' which shows you which posts are performing the best and how your page is doing, or 'Facebook Aggregate,' which shows you which Page is most engaging.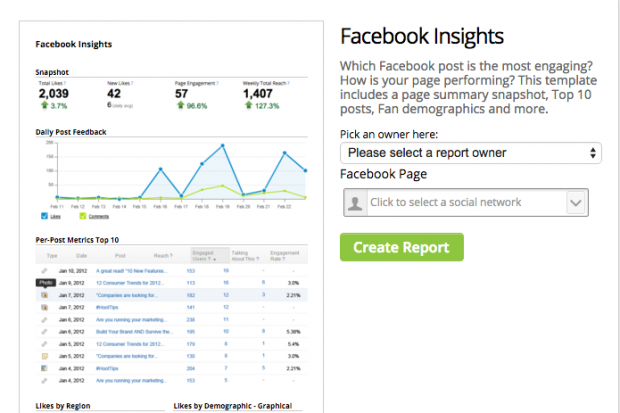 Start measuring your Facebook success with Hootsuite today!
The post A Beginner's Guide to Facebook Analytics and Insights appeared first on Hootsuite Social Media Management.
from Hootsuite Social Media Management https://blog.hootsuite.com/facebook-analytics-insights-beginners-guide/